Disabling the adblocking extension adblock Plus in Google Chrome is very simple: It's just two clicks, as the following instruction shows:
Disable adblock Google Chrome: Step 1
First click the little red symbol in the upper right of Google Chrome.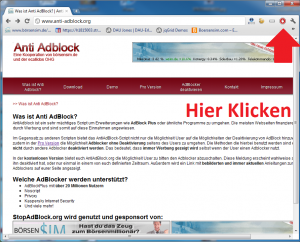 Step2: Disabling adblocker in Google Chrome
The second and last step is to click: Add exception for this web site.

That's it! There's no more steps left – adblock is now disabled on this specific site.
Support all web sites by disabling Adblock globally!
How to disable AdBlock plus in Google Chrome

,